Please use one of the invite links above starting from the top one 🙂 If a link comes back as used please try the next one down until you can complete registration. Once you have registered and deposited at least £1 and completed W-8BEN form you will get a free share worth up to £200 within 7 days. Drop me a comment below confirming which link you used and you can add your invite link in the comments – Thank you x
PLEASE ONLY USE A LINK IF YOU WILL BE COMPLETING REGISTRATION (DEPOSIT FUNDS OF £1 OR MORE AND COMPLETE W8-BEN FORM) – OTHERWISE LEAVE THE INVITE FOR SOMEONE ELSE TO USE. THX
So recently I have started to dabble in the stock market and buy a few shares here and there. With the coronavirus spreading and the country in lockdown I've had more time to research and buy a few different (very small) holdings. And I'm really enjoying it 🙂
And I really like Freetrade ! Pretty sure this is the future of share dealing. The app is fantastic and so easy to use. And for some reason it makes buying shares fun ! So I love it! And ones of the best bits is if you use a freetrade share referral link you get a free stock worth upto £200 which is amazing.
Previously buying shares meant spending large amounts paying the commission charges for every trade completed. This is where Freetrade is different. There are no commision fees to pay! :-). I like buying a few cheap shares in different company's so it helps that they don't charge these fees. The comparison table should give you an idea on the fees compared to come of its direct competitors.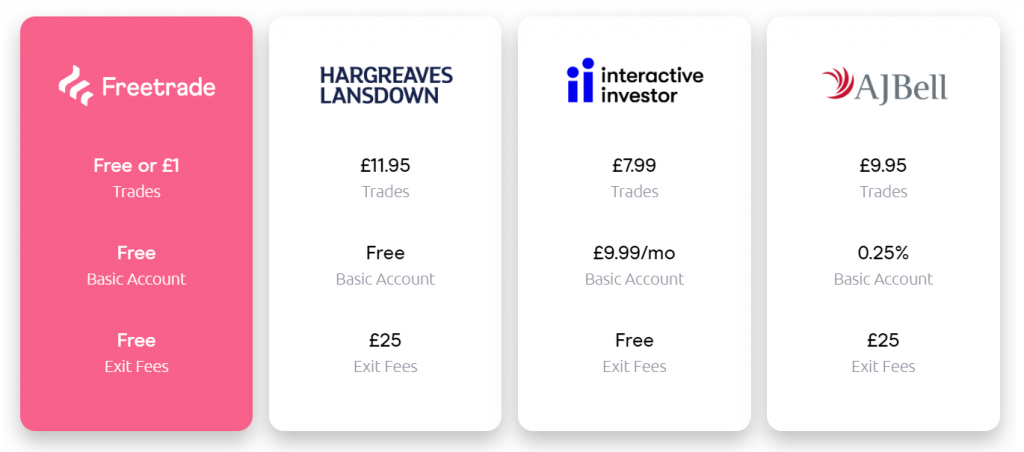 For an added bonus if you use my Freetrade referral link above you get a FREE SHARE worth upto £200. I have already referred a few friends and received shares ranging from £8 – £72 . Okay maybe not quite £200 but they are FREE.
You can use my Freetrade invite links above to take part in the FREETRADE SHARE PROMOTION but make sure you only use the link if you care going to complete registration and deposit funds as these links are one use only.
If none of the links are available please leave a comment and I will get the links refreshed 🙂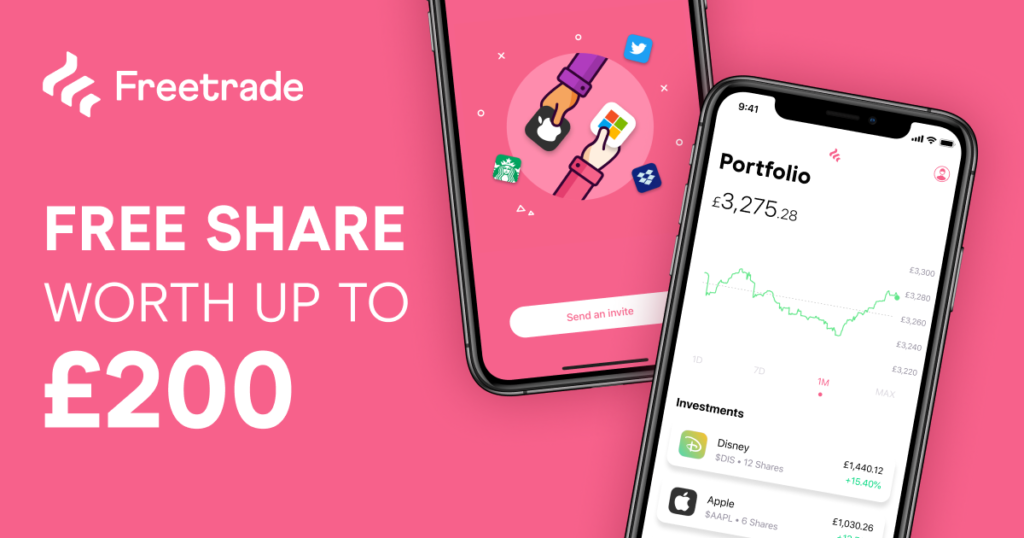 Frequently Asked Questions
1. How do I get a Freetrade free share when joining?
To get a free share you need to use a freetrade referral link such as those contained on this website before registering.
2. What is the value of the Freetrade free share?
If you use one of my referral links above and register by clicking the Freetrade free share referral link you will get a free share stock worth between £3 – £200. This will be randomly selected.
3. How long does it take to receive your freetrade free stock?
Normally once you have registered by following a freetrade referral link you get a notification that you have a mystery free stock. This then gets released and you have a free stock added to your share account within 7-10 days.
4. What is the criteria to to take part in the Freetrade.io free share promotion?
In order to get a Freetrade Free share you need to register by following one of the invite links contained on this website. You will then need to register and deposit at least £1. Once you have deposited the money you should get your free share confirmed within 24 hours.