Franco Manca Referral: 72D3A7
Use referral code: 72D3A7 to get a FREE BONUS stamp added to your app AFTER you have made your first pizza purchase
I love pizza. What girl doesn't? And when a new 'indie' chain opened a branch in my neighbourhood we had to go check it out. The vibe was fresh, the drinks were fantastic and the sourdough pizza was amazing.
Hey there, pizza lovers! Have you ever heard of Franco Manca? If you haven't, then you're in for a real treat. If you're on the hunt for a pizza joint that's as authentic as it gets, look no further than Franco Manca. Founded in Brixton, South London in 2008, this pizza chain has since expanded to over 50 locations across the UK. And it's not hard to see why it's become such a beloved spot for pizza enthusiasts.
First of all, let's talk about the crust. Franco Manca's sourdough base is like nothing else out there. It's light, airy, and has a unique tangy flavor that comes from the slow fermentation process. Trust us, you won't find crust like this anywhere else.
And let's not forget about the toppings. Franco Manca uses only the best ingredients, sourced from small-scale producers and farmers. This means you're getting pizza that's fresh and bursting with flavor. Plus, the menu changes regularly to reflect the seasons, so there's always something new and exciting to try.
But don't let the simplicity of the toppings fool you – these pizzas are seriously delicious. Whether you're a fan of classic tomato and mozzarella or prefer something a little more adventurous like cured meats or roasted vegetables, you won't be disappointed.
What's really cool about Franco Manca is their commitment to tradition. The pizzas are cooked in a wood-fired oven, which gives them a crispy crust and a smoky flavor. And with the oven heated to over 500 degrees Celsius, your pizza will be ready in just 40-60 seconds. Talk about fast food!
And let's not forget about sustainability. Franco Manca is committed to using biodegradable packaging and working with local suppliers to reduce food miles and waste. So not only are you getting delicious pizza, but you're also doing your bit for the environment.
They even have an app with a loyalty scheme which gives you a FREE stamp on signup and another BONUS stamp when you have ordered your first pizza. This means at the end of your 1st meal you should have 3 STAMPS which is halfway to a free pizza.
You can use my referral code: 72D3A7 to get a free bonus stamp added to your Franco Manca app.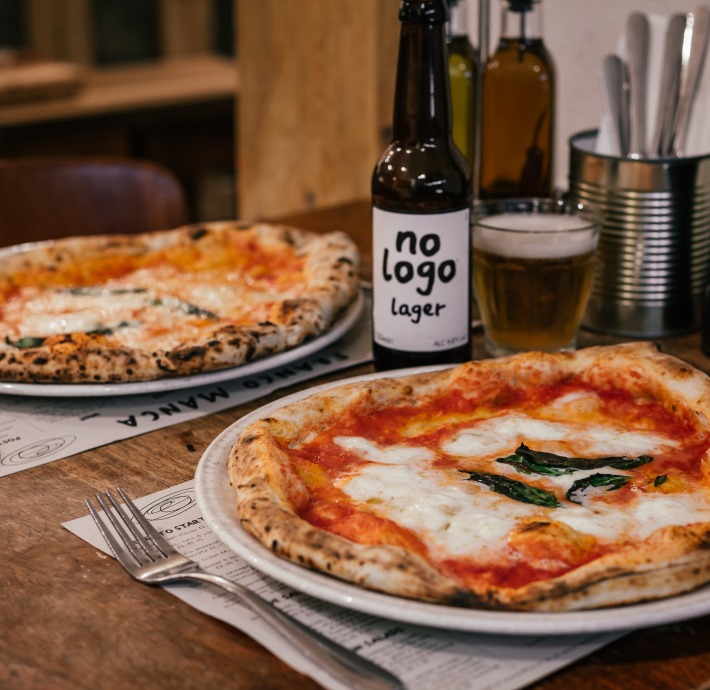 Hint: The Vegan pizza is the most popular and I loved it! I will do a more thorough review in the coming weeks but thought I would do a quick blog update whilst sat in the restaurant 🙂
In conclusion, Franco Manca is a pizza lover's dream come true. The sourdough base, high-quality ingredients, traditional techniques, and commitment to sustainability all make for an unforgettable dining experience. If you haven't tried it – then you really should!
Frequently Asked Questions:
What is the Franca Manca Referral code?
When registering on the app – you need to enter referral code: 72D3A7 to get a FREE BONUS stamp added to your account.
What do I get by using the Franco Manca code?
If you enter referral code: 72D3A7 when joining you will get an additional free stamp added to your loyalty app. This mean s you will have 3 stamps after you have purchased your 1st pizza
I've entered referral code but I only see one stamp. Is that right?
Yes. As long as you entered 72D3A7 when registering you will get your FREE bonus stamp AFTER you have made your 1st pizza purchase. Enjoy 🙂