Subway Promo Code: X-63B2H5E
Download the NEW subway app and enter promo code: X-63B2H5E when registering to get 200 FREE points added to your account AFTER you make your first purchase using app.
Recently Subway have launched an updated app and although I hadn't been to Subway in many months I decided to check out their latest offerings as we came out of lockdown. I noticed upon registering that you are asked if you have a promo code. If you enter X-63B2H5E you will get 200 points added to your account 🙂
As a reminder – here is breakdown of what subway points are worth: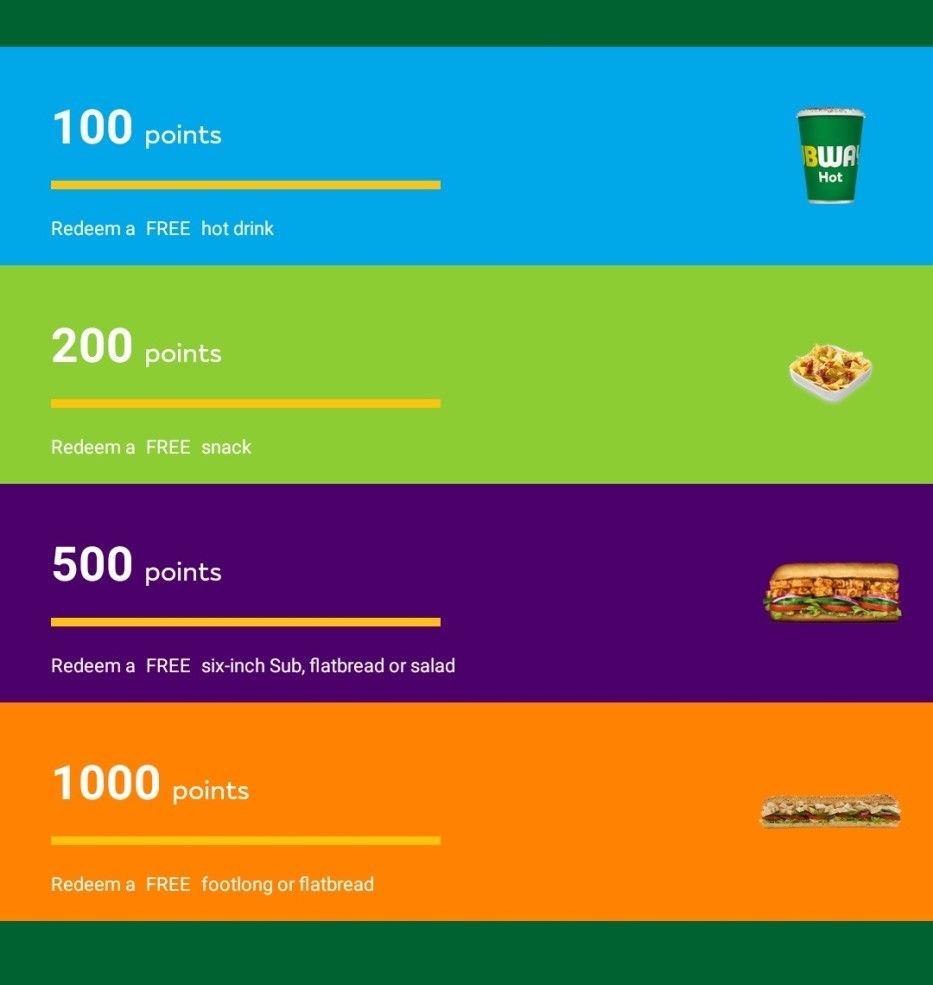 We all like to indulge in a little bit of fast food once in a while when we are either too busy to whip something up nice or when we need to grab a bite on the go. I'm a lot more health conscious nowadays and a healthier option for me has always been Subway (at least compared to McDonalds and Burger King). I admit it had been a while since I'd ordered a Subway mostly due to lockdown. I discovered that Subway have launched an updated app (or replaced the old app) and during registration I was asked for a subway promo code. I entered X-63B2H5E and got 200 points added to my account. With the extra 200 FREE points I was able to treat myself to toasted bites, nachos, hashbrowns etc. which I think is a pretty good deal. I went with Nachos which was always my go to side with my subway in the past.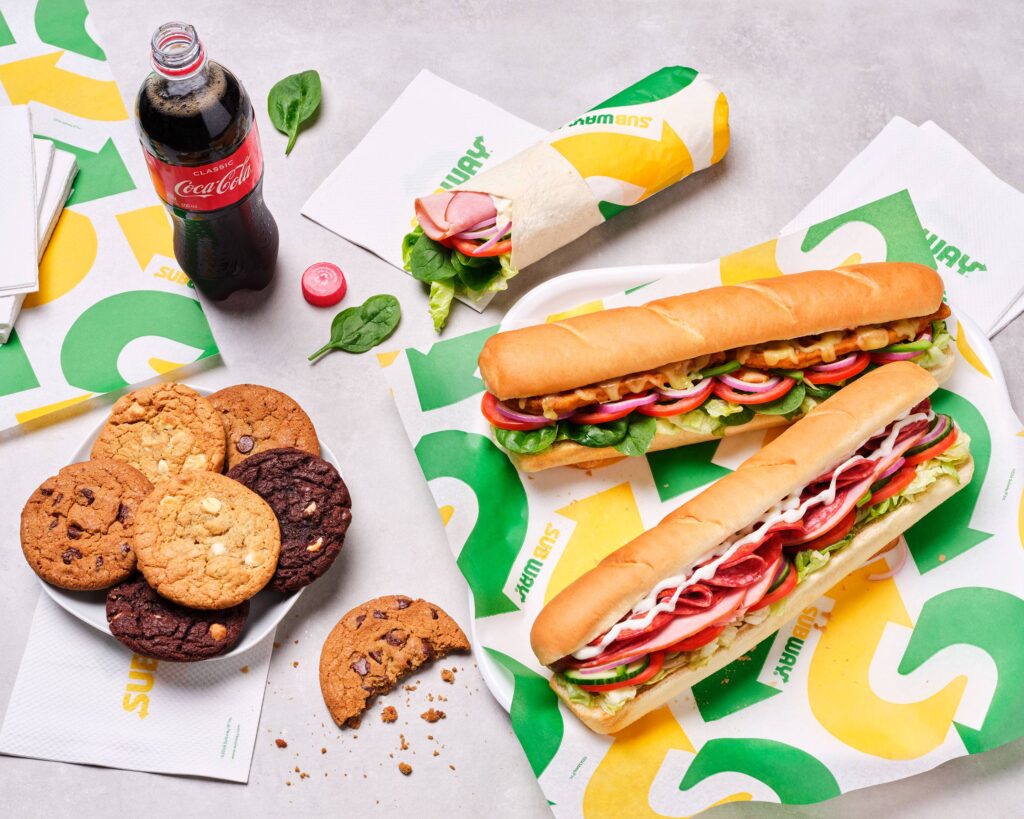 On the days I'm trying to cut down on my carbs or I'm going through my regular fitness cycle I usually opt for a salad bowls which are probably my favourite guilt free option right now. There is so much choice from Roast Chicken Breast, Italian B.M.T, Plant Patty for vegetarians just to name a few, but my favourite is the tandoori chicken or barbeque chicken. I like to have it on days that I'm working out, or if I need to grab a quick healthy lunch at work and don't want to feel like crap with a heavy lunch. They are fantastic value. If I feel like a bit of a pick me up or if it's my cheat day, I will go for the Italian white bread with steak and cheese, or sometimes I go for the steak and cheese in a tortilla wrap. They have a range of cheese to choose from now as well, but my favourite is American style, it goes perfect with the steak and toasted. Don't forget you can use the Subway Promo Code: X-63B2H5E to get 200 free points when you register with Subway too.
Some days (mostly at the weekends) or if I really want to treat myself, I'll even grab breakfast from Subway. They do a nice range of hot sides, I like the tuna melt toasted bitebest. If I want something a bit more substantial, I got for the Mega Melt sub really sets me up for the day with its beechwood smoked back bacon, British free-range poached eggs or omelette made with free-range eggs, sausage made with British pork, and American-style cheese, it's delicious! If I'm feeling especially lazy but fancy a Subway, I'll go to the site www.subway.com/en-GB and order via one of the delivery companies – Uber Eats, Just Eat or Deliveroo. Just a thought – I know subway sauces is a very personal choice but my favourite will always be Southwest but I do like to mix it up every once in a while! I do like to try different combinations which is probably why I never get sick of eating at Subway.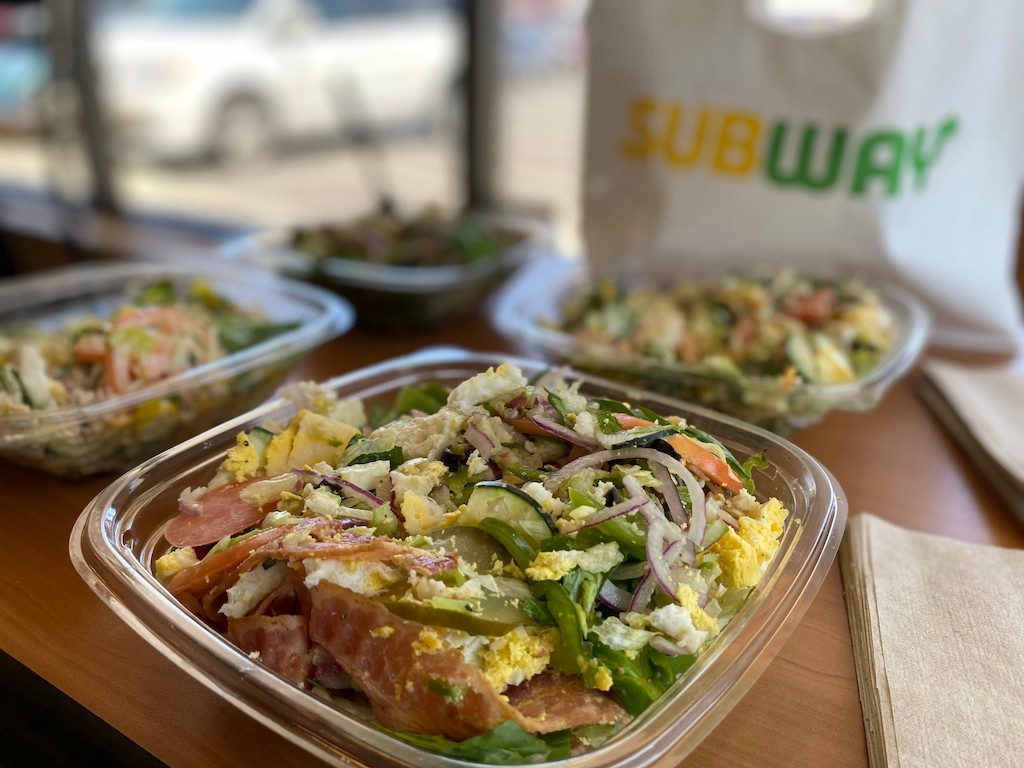 Remember if you are new to downloading the app you can use promo code X-63B2H5E during the registration process to get a bonus 200 points added to your account.
Enjoy your subways!
H x
Frequently Asked Questions:
What is the subway promo code?
Enter subway promo code: X-63B2H5E during the in app registration process.
What do you get by using a subway promo code?
Use subway promo code X-63B2H5E during registration gets you 200 FREE points to use on your next transaction
What do 200 FREE subway points get you?
You can save your points or use them for a free snack such as nachos, toasted bites or hash browns.
When do you get your FREE Subway points?
Once registered using subway promo code: X-63B2H5E you will get your free points AFTER you have made your 1st purchase and used your QR code.