Invite code: FAFASN2453
Enter invite code during app signup. Note you will get 25 stripes for signing up to the app but you will not be rewarded with the 25 BONUS stripes until after you have made a purchase and scanned your receipt.
TGI Fridays is a bit of an institution in my family. We always visited TGIs when we had a family birthday when I as younger :–) – so I've grown up visiting and enjoying the amazing atmosphere and fantastic food.
The cocktails are probably the best thing about TGIs and they have quite a variety at pretty good prices. (A little hint for when you next visit – If it's for your birthday and you have updated the app with your details you should get a few free cocktails or mocktails thrown in!)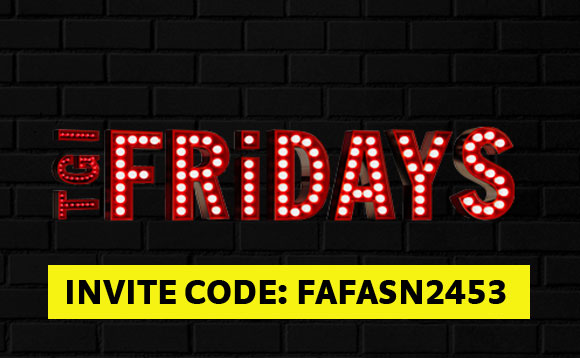 Remember to use my invite code : HARE6627202 when signing up to the app and you will get an additional 25 stripes after your 1st purchase. I usually use my stripes for the lowest level reward and get free mozzarella dippers or loaded skins but if you are the saving kind then you could save your stripes for a Level 3 or 4 where you can get a FREE steak or shrimp grill.
You earn rewards at 1 for every £1 spent so the 25 bonus points are the equivalent of you spending £25 at the restaurant. Winner!

Frequently asked questions
What is the TGI Fridays invite code?
You can use the referral code FAFASN2453 for 25 bonus stripes when registering on the TGI app
What are the TGI Fridays 25 bonus stripes worth?
Using the invite code: FAFASN2453 you get 25 stripes. 50 stripes gets you a starter so you are half way to your first reward.
Why did I not get my 25 bonus stripes?
You will get 25 stripes for simply joining the TGI app. Using the invite code FAFASN2453 will get you an additional 25 stripes but these will not show until after you have made purchase and scanned your receipt.