Costa Coffee Invite code: VBVP6
Use the invite code when registering in the Costa Coffee app to get 200 points (worth £2) FREE to go with the 100 points starter points you get for registering. You can also use the following direct link:
Want to get another free drink for joining?
A number of other coffee shops offer free drinks if you join their loyalty programmes using a referral code/link.

Caffe Nero – Get a free drink when downloading the app using the invite a friend link. More details here: https://referandsave.co.uk/caffenero/

Coffee#1 – Similar to Caffe Nero – Get a free drink when downloading the app using the invite a friend link. More details here: https://referandsave.co.uk/coffee1/
Yes – You guessed it. Another one of my guilty pleasures is coffee. I probably drink far too much of the stuff every single day but I don't think I can function without a coffee first thing in the morning.
I usually use my Nespresso at home before leaving for work but once I'm on my way to the office or during the day I need a refill from my local Costa Coffee barista. And since we all love free things – how about a free coffee from Costa? Now, there aren't too many ways for you to get a free coffee, but luckily for you I know exactly how you can get one, and this article is going tell you exactly how!
So, you are probably thinking, how do I get a free coffee?
It's pretty simple really. All you have to do is download the Costa Coffee app to your phone or other mobile device that you own. When you are completing the registration process you are asked if you have an invite code and you need to enter Costa Coffee invite code: VBVP6. With this code entered you will receive 200 points, which is equivalent to £2. Not only do you get that for using the code but you will also receive 100 points just for joining the loyalty programme. That's 300 points in total and enough for a free hot drink!
You can also visit their website to gain access to these free points, when you register an account.
For me there's nothing better than a really good cup of coffee and Costa Coffee do some of the best coffee out there. I prefer to make my own all things being said – but when that's not possible then Costa is my coffee house of choice. Combine the great coffee with a great app and loyalty scheme and it's a win win from me.
The Costa Coffee app is actually one of the best loyalty apps out there. It is just so easy to use and collect points. You earn 100 points just for joining the loyalty programme (and not forgetting the 200 points for using the Costa invite code: VBVP6) Once you have signed up, you can track your points, refer your friends and family for a bonus 200 points and see how many more points you need to be able to get another free coffee. The points are actually redeemable for anything sold in store not just barista made drinks like the similar offer at Caffe Nero.
The app is also a great if you are in a rush. You can place your order on the app whilst you are still at home or on route and then head to the store and collect it all without having to wait in line. Other functionality in the app includes finding the store closest to you and important information such as opening and closing times, what facilities are available and even directions!
If you have been a member of the Costa Coffee loyalty programme for a while, then you will know all about the physical cards which were used in the past. But, with the app you do not have to worry about remembering to take your card with you everywhere as you can access your card within the app, and if you have an iPhone you can even place your card within your apple wallet, so you can access it very quickly if needed.
Enjoy you coffee and don't forget to enter costa coffee referral code: VBVP6
H x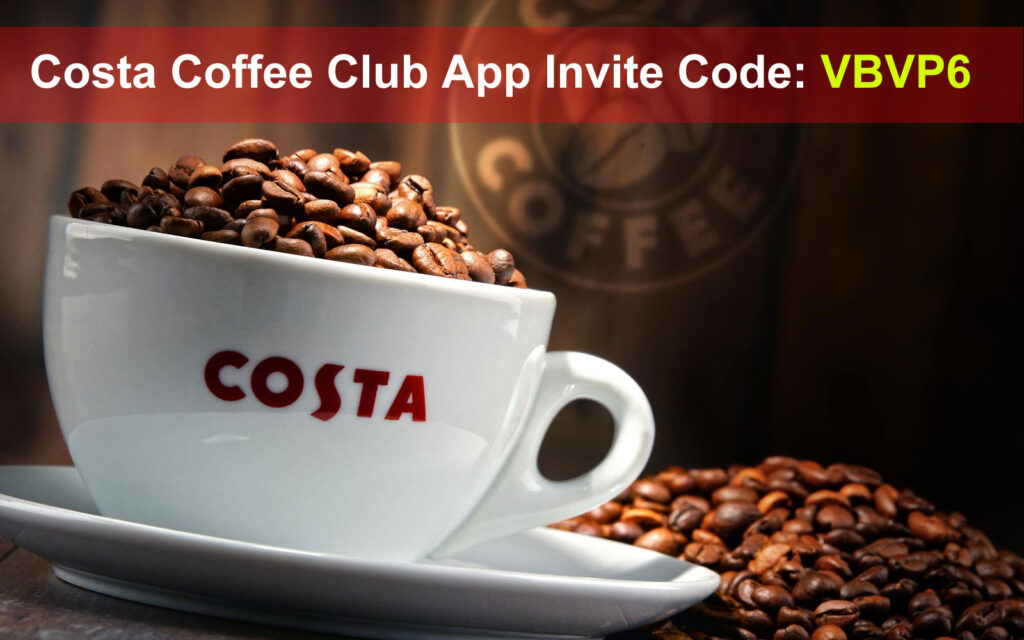 Frequently Asked Questions (FAQs)
What is the Costa Coffee Club App invite code?
Use the invite code: VBVP6 when registering the Costa Coffee Club app to get 200 FREE points.
What are 200 Costa Coffee Club points worth?
When registering with invite code : VBVP6 you get 200 FREE Costa Coffee points. These are worth £2 towards your next coffee. You also get 100 free points for starting out in the Costa app making a total of £3 towards your first Costa Coffee Club coffee.
Where can you use the Costa Coffee club app?
You can use the Costa Coffee Club App at any Costa Coffee in the UK. You can add the app details directly into your apple wallet to make things even easier. And don't forget to use invite code: VBVP6 or 200 FREE points.