Knoops Referral code:
faisaln2676
Register with the Knoops Chocolate app and enter referral code: faisaln2676 to get 15 FREE points added to your Knoops App balance. You need 30 points for a FREE drink and this should mean you have 40 POINTS as you get 25 on joining.
Who doesn't love hot chocolate right? And Knoops have probably some of the best on the market. These guys specialise in hot chocolate so you can be pretty sure they will do an amazing job.
I came across Knoops in Kensington London but they have a couple of stores in the UK and another opening in Chelsea London shortly … and I was blown away with the choice and quality of chocolate on offer. They actually offer a huge range of chocolate drinks, both hot and cold as well as coffee drinks and products for use at home but the in-store hot chocolate I tried was truly divine.
The choice was a little overwhelming but the 'knoopologist' provided some great advice and I went with a 43% single origin Venezuala with hints of hazelnut and butterscotch! It was lovely!
The 'home' range at Knoops is pretty impressive too. I already have a Nespresso machine with the aeroccinno and I found that buying some chocolate flakes from Knoops worked perfectly with my machine doing the warming and mixing ;-). Knoops actually sell a number of machines in-store very similar to the famous Velvitiser available from Hotel Chocolat.
The range of grated flakes available at Knoops means you will struggle to decide which to buy but of course the 'knoopologist' can advise. You obviously can't go wrong with the 34% milk chocolate flakes but if you want o be more daring they have a number of options available to purchase.
Looks like Knoops will be by new hot chocolate go to … especially for the home range. The in store chocolate was amazing but until someone starts doing hot chocolate like I had in Paris @ Angelina I will keep my purchases to a minimum. 🙂
Let me know if you check the place out and what you order. Would love to hear what your favourite was… I will definitely be trying a different blend when I next visit.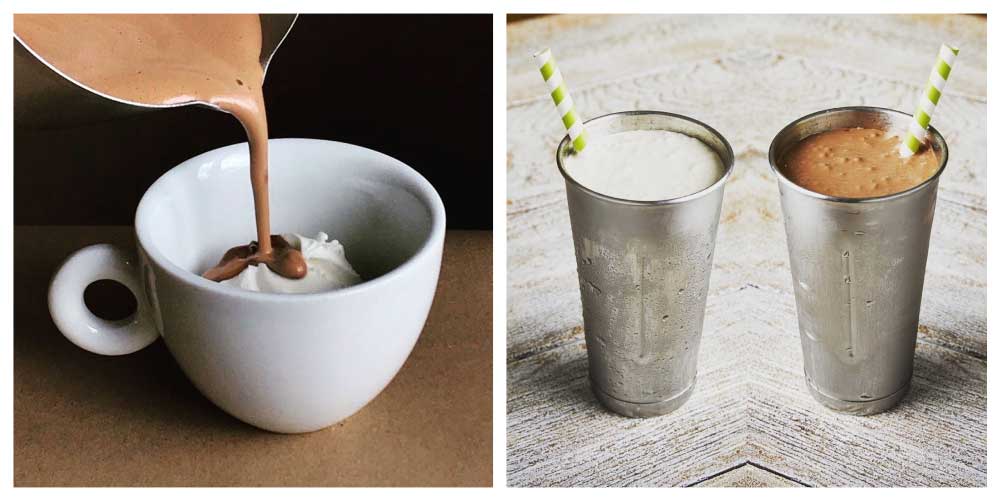 H x