Trading 212 PROMO CODE: FMStoXkl
1. If you have not registered then please click the link above to register and get your FREE share. Always try this before Number 2 below if possible.
2. If you have already registered (but didn't use a referral link) then please enter the Trading 212 promo code: FMStoXkl in the promo field on the app (only works in the mobile app).

Note: I recommend you follow the website link above on a desktop PC (it does work on mobile devices & tablets but with less success) to ensure the invite tracks correctly and you get your free share. When following the link it may not be obvious that you are getting a FREE share – but you will :-). Remember you need to deposit funds of at least £1 in an Invest or ISA or you do not get a FREE share.
Okay – I've not spent years investing or saving . . . – Up until I started using the Trading 212 app I had rarely thought about stocks and shares. I'm not afraid to say that I'm a relative novice when it comes to investing. That said I've spent the last few months using the Trading 212 app and understanding and researching everything I can. And I'm addicted 🙂
Want another FREE SHARE?
Don't forget to check out my blog for other FREE share trading accounts:
1. Freetrade which lists worldwide shares and has an offer for a free share worth up to £200 when registering using an invite link – https://www.referandsave.co.uk/freetrade/
2. Stake which is a share dealing account for UK, US, AUS users which offers a FREE stock in NIKE, DROPBOX or GO PRO on a lucky wheel spin – www.referandsave.co.uk/stake/
3. Passfolio which is a US share dealing account for worldwide residents and offers of free stock worth upto $100 – https://www.referandsave.co.uk/passfolio/
So to begin – I started buying shares at a relatively volatile time (just as CV19 lockdown was implemented in the UK) when a friend recommended I download the 212 Trading app and invest I thought I would dip my toe in and see how I got on,
I will be honest – Originally I was unsure if this was the platform for me – but the offer of a free share (worth upto £100) for investing £1 perked my interest and I had a new account setup very quickly after providing some documents online to verify my identity. (You too can get a free share by clicking through the link above – just make sure you choose to open and INVEST or ISA account to receive your free share)
The following day I had a share for £81.76 for Paypal – and as of updating this page on the 08/08/20 the share price of that one share is £152.13 🙂 . Not bad if you ask me. I can safely say that the Trading 212 referral scheme is probably the best scheme I have blogged about on my website. (that doesn't mean you shouldn't check out some of my other referral schemes)
Since then I have begun purchasing shares myself. I started off few shares in Barclays bank followed by Metro Bank and Lloyds just to get a hang of the share buying process. I've gradually started buying more shares in various entities as its just so easy on the trading 212 app. As of 08/08/20 by share portfolio is valued at £5419!
I have received a number of free shares along the way from referring other people. My highest value shares other than Paypal have been Astra Zeneca and I got 2 @ roughly £68 each but I have really enjoyed spending my own money and buying more as the weeks have progressed.
My current portfolio is shown below… I have purchased some of these and received some free from the using the referral scheme. You will get one free share for using the link above and then you will also get an link of your own to refer your friends and family.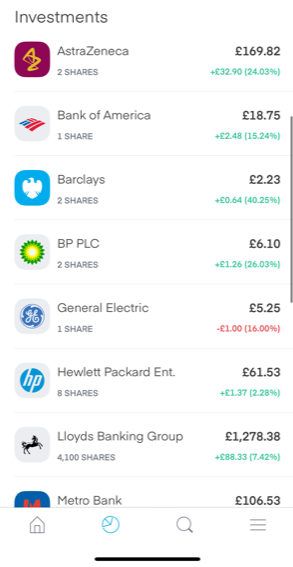 I will update you all as my portfolio increases over the coming months. But you can see what I have right now and how I'm currently doing :-). Not bad for a complete newbie huh!
You should expect to see a lot more posts from me over the coming months specifically related to my investments and my thoughts on both my portfolio as it grows (hopefully) and my reviews of the various share dealing platforms out there. Yes this blog was originally ONLY about referral codes but I think I've found something else to write about that I think you guys will be interested in!
I will be setting up a separate BLOG page just covering my progress on Trading 212 – Expect to see that in the coming days!
I just referred one of my oldest friends and she got a share in Astra Zeneca too so I don't think I've been especially lucky. . . Good luck and happy trading 🙂 – Don't forget if you use the link above you are welcome to leave a comment below with your promo code for others to use. xx
Follow these steps to open an account…
1. Click on the above link and when selecting an account type click the INVEST account type, fill in the form with all you details.
2. Wait for your account to be activated, normally this happens automatically but sometimes you may need to undergo manual verification. When logged in just click CHAT and select Account Activation and follow the steps required.
3. When you have activated top up £1 by clicking on your account in the top right hand corner and clicking deposit funds. Choose credit/debit card for instant deposit and no fees!
4. Once you've activated and deposited you will receive your free share within 24 hours. To see which shares you have look at 'Open Positions' in the bottom of your Trading212 screen. You can choose to keep the share or sell it by clicking on the 'X' mark next to the share to close the position. Once sold, the money from the sale will go into your account
5. To withdraw the funds, click on your account in the top right corner of the screen, then choose the 'withdraw funds' option from the drop-down menu to withdraw your funds to your card/bank account.
Frequently Asked Questions
How do I get a free share on the trading 212 platform?
Sign up following this link: http://www.trading212.com/invite/FMStoXkl
and open an INVEST account and deposit a minimum of £1/$1/€1 to get your free share. Or if you have already registered enter Trading 212 promo code: FMStoXkl
What is the Trading 212 PROMO Code?
If you have already registered but did not use a referral link then you can enter Trading 212 Promo code: FMStoXkl to get a FREE share in the relevant box on the app.
How long before you get your free share?
If you follow this link to open a new INVEST account: http://www.trading212.com/invite/FMStoXkl and invest £1/$1/€1 you will get a free share worth upto £100/$100/€100 within 24 hours. Usually you are notified within minutes of making a deposit
How much is the free share worth?
If you register using the following link: http://www.trading212.com/invite/FMStoXkl or enter Trading 212 promo code: FMStoXkl you will get a free share worth upto £100/$100/€100
Do I need a trading 212 promo code to get a free share?
You do not need a trading 212 promo code to get your free share. You need to follow the referral link: http://www.trading212.com/invite/FMStoXkl and it will be automatically activated. But if you have registered and did not use a referral you can manually enter FMStoXkl in the trading 212 promo box in the app