Airtime Rewards Promo Referral Code: AFKLHVED
Invite a friend and get £0.50 when they join and an extra £1.00 if they spend within 7 days. Available on all major phone networks.
I think at this point we have all heard of reward apps and programmes but sometimes it is hard to know which ones are useful and can save you money; which ones require you to spend thousands to get a few quid back and which ones are just scams that will never actually pay out. So, when I first heard about Airtime Rewards I must admit that I was a little apprehensive. When I originally downloaded the app about a year ago and saw that I needed to provide my credit card and mobile details it put me off from using the app. I like to use apps for a few months before providing any of my personal details, if at all possible.
Roll on 12 months later and I've just joined and honestly, I can't believe I didn't do it sooner! Not only is the app legitimate, but the cashback that you can get from using the app is fantastic. No it's not a huge amount – but essentially by connecting the app to your credit card and then making store transactions or online transactions you receive cashback which can be used to pay off your mobile phone bill. How great is that? The fantastic bit is that this works in additional to any discount codes and cashback you have received from other sites as this is based on your actual card spend.
So, very quickly – Here's how it works:
You sign up to Airtime rewards using your mobile number (not forgetting using the referral code AFKLHVED)
Shop online and in store with big retailers using the card you have linked in the app
You earn back money towards your mobile phone bill each month
They have a large number of retailers available on the platform and the last time I checked we were at 80 and counting from some of the big chains and stores such as Boots, Primark, Papa John's, Argos, Wilko and new ones being added all the time. All you have to do is connect your card to the app and then it will automatically track how much cashback you should be receiving. There is no carrying around all your loyalty cards or scanning QR codes. You just shop as you normally would instore or online and you will see the rewards added to your account.
I was actually referred to the site by a friend, but I now have my own referral code (my Airtimes Reward referral code is: AFKLHVED) and it definitely makes the deal even sweeter. Every time one of my friends or blog readers signs up using my referral code, I receive 50p immediately and if they place their first order within the first 7 days of joining, I get an additional £1. So far I've already received some cashback from using my card for a normal shop I was always making and some payments from friends joining up ! I really like this app!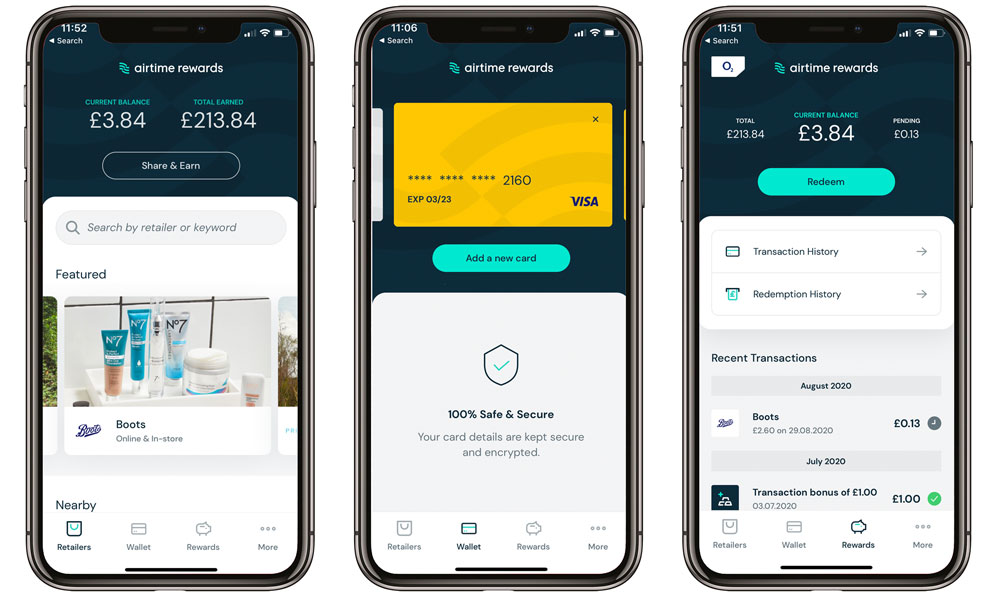 And in case you are still worried about security, which is completely understandable, you should know that Airtime Rewards uses encryption and they are PCI compliant as they work in partnership with VISA and Mastercard. This means that not only are there no charges and fees hidden in the app but also, that all of your card details are completely encrypted and secure. There is no worrying about the possibility of someone stealing your bank details or mobile information and personal information because everything is kept in the app in a secure way..
Thanks for reading and I hope you enjoy airtime rewards as much I do. Remember to use airtimes referral code: AFKLHVED to receive a reward when joining up and also to help spport this blog.
Happy cashback – and enjoy your shopping and your savings.
H x