Socialgood Referral Code: Y632LC
Use Social Good app referral code Y632LC when registering for a SocialGood account to get $200 of SG crypto added to your account ** Remember you need to complete your 1st transaction over $30 within 30 days to activate the $200 bonus**. This is an amazing offer for $200 FREE which is about £150!
** Get 50% Cashback at Ebay and 100% Cashback at AliExpress **
Social good is a new crypto cashback app which provides cashback on purchases similar to Topcashback or Quidco when clicking thorugh and making purchases on various retailers but instead of £s you are rewarded with SG crypto. But what makes social good so different from the usual cashback sites is the percentage of cashback you can receive. For example right now on the Social Good app you can receive 100% cashback at Ebay or Aliexpress (the percentages change throughout the year). That is an absolutely amazing amount of cashback!
If you use Socialgood referral code Y632LC when registering for an account you will get $200 of SG crypto to get you started. WOW. I have only just started using the app in the last few days so cannot confirm how easy it is to cash-out your SG but it does require a little more effort to convert your SG back to fiat currency then say using Topcashback.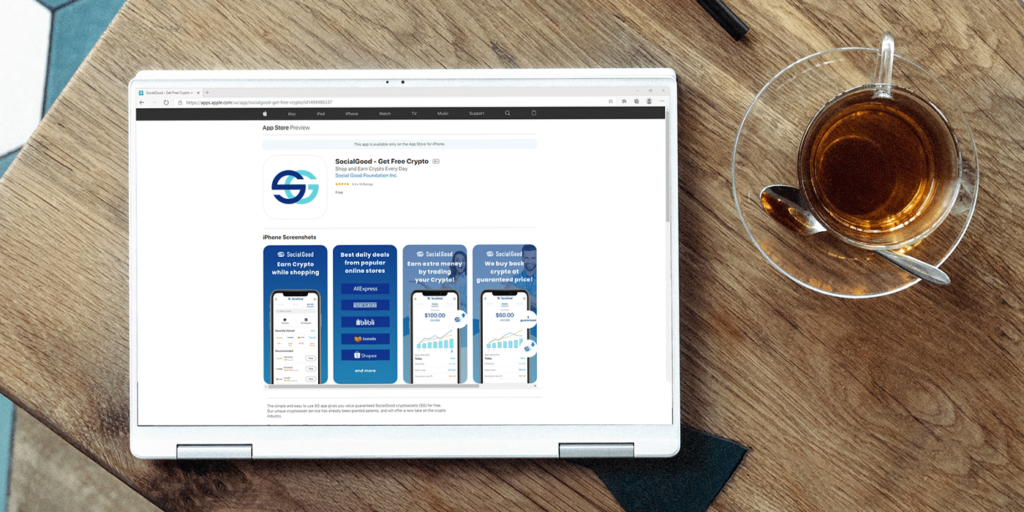 The process of using the app is similar to other cashback sites in that you find the retailer you want to buy from and you click through from the app and place your order as usual. Then once your transaction has tracked – socialgood will add SG to your balance which you can then either keep or convert back to fiat or other crypto as required.
Socialgood also offer staking functionality where you can keep hold of your SG crypto and they will give you 15% staking rewards. I have decided to keep hold of my SG for now as the value of SG has increased exponentially over the last 6 months and should be worth more than what I received against my transactions. It's also worth noting that socialgood guarantee that you will not lose out if the value of SG falls below the amount given to you when you completed your transaction. 🙂 – You need to check what the T&Cs are against the retailer you have received the SG tokens
I am yet to connect my SG account to an exchange but it looks like the popular crypto echanges such as Uniswap and Bitmart are available to connect. Remember if you use socialgood referral code: Y632LC you will get $200 of SG tokens to get you started.
I will provide a further review once I have received my cashback from early transactions but it looks like a truly amazing app if the cashback is paid out. So far I have all my purchases tracked in the app which is a good start but they will remain as pending for now. From reading up it looks like it can take anywhere between 30-90 days for your SG tokens to go from pending to approved. At this point you can decide to keep hold of the tokens or sell them on an exchange.
I will explain the full process of selling your tokens or staking them once I have had more time to use the app. For now the free tokens from using a socialgood referral code and the cashback from buying of a retailer site have kept me very interested in this platform
Frequently Asked Questions:
What is the Socialgood app referral code?
Use socialgood referral code: Y632LC when registering for a new account
What are the benefits of using a socialgood app referral code?
Using SocialGood referral code Y632LC will mean you receive $200 of SG crypto added to you balance.
Where do you enter the socialgood referral code?
During the signup process you are asked if you have a referral code. Make sure you enter Y632LC in this box to activate the offer.
What is the criteria to receive your Social good referral bonus?
Make sure you enter socialgood referral code Y632LC when registering and after your 1st transaction over $30 you will receive your $200 SG bonus.
Happy shopping – Updated review to follow. x