Freetrade Free Share Referral Link:
Click the link above and once you have registered and deposited at least £1 and completed W-8BEN form you will get a free share worth up to £200 within 7 days.
WHEN YOU INVEST YOUR CAPITAL IS AT RISK
Don't forget to check out my blog for other FREE share trading accounts:
1. Orca is the new UK trading platform which offers a free share worth up to £200 when you deposit £1.
[ORCA SHARE OFFER]
2. Streetbeat which lists US shares and has an offer for a free cash added to your share account of $15 when registering using an invite link.
[STREETBEAT SHARE OFFER]
3. Trading 212 which lists worldwide shares and has an offer for a free share worth up to £100 when registering using an invite link –
[TRADING212 SHARE OFFER]
4. Stake which is a share dealing account for UK, US, AUS users which offers a FREE stock in NIKE, DROPBOX or GO PRO on a lucky wheel spin –
[STAKE SHARE OFFER]
5. Passfolio which is a US share dealing account for worldwide residents and offers of free stock worth upto $100 –
[PASSFOLIO SHARE OFFER]
So recently I have started to dabble in the stock market and have been buying a few shares. I'm no Wolf of Wall Street but the lockdown in the UK has meant I have had more time on my hands to research and understand a little more about how the stock market operates and how I can get more involved.
I have been using the Trading 212 app for most of my share buying as I downloaded that first and never really felt the need to try anything else. But a few weeks ago I was told about another app called Freetrade which I have now downloaded and have begun using at the same time as Trading 212.
And I'm starting to really like the Freetrade app! Pretty sure this is the future of share dealing at least for me anyway! The app is fantastic and so easy to use. And for some reason it makes buying shares fun. And one of the best bits is if you use a Freetrade share referral link like the one listed above you get a free stock worth up to £200 which is amazing 🙂
Much like Trading 212 if you refer a friend to the Freetrade platform you can get a randomly selected free share to start your share buying journey. The share can be valued at any price between £3 and £200 and I have found the majority of my shares are about £6 or £7 although I have received a couple of £30 valued shares as well. An early example of the shares I have received are shown below and since then I have begun to purchase a number of shares myself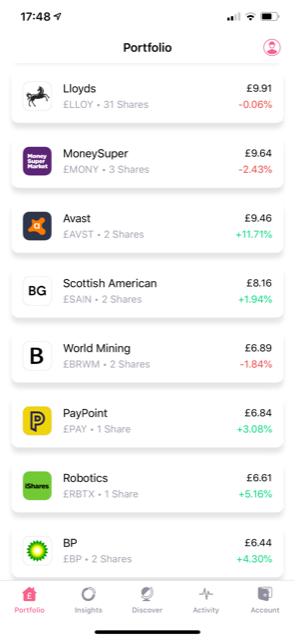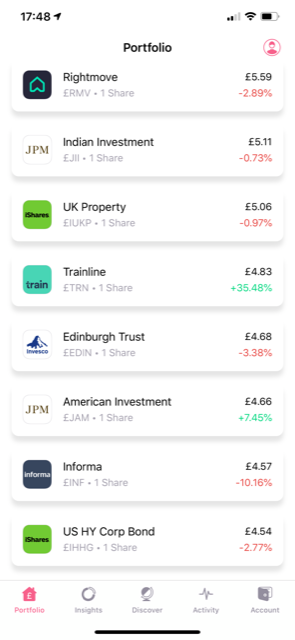 You can see I have purchased some shares in Lloyds which was my first purchase on Freetrade when I was getting to know the app. I have purchased quite a few shares since then which are further up in the screenshot. Keep an eye out for an article in the next few weeks detailing my holding and how I am doing… I'd love to take you on my investment journey as I think this will be where I will be putting my savings over the coming years.
Free shares aside – Did I mention the biggest benefit of using Freetrade? Unlike some of the more established share platform you can buy whatever shares you want in whatever quantity you choose without incurring commission charges! Previously buying shares meant spending large amounts paying the commission charges for every trade completed. This is where Freetrade is different. There are no commission fees to pay! :-). I like buying a few cheap shares in different company's so it helps that they don't charge these fees. The comparison table should give you an idea on the fees compared to some of their direct competitors.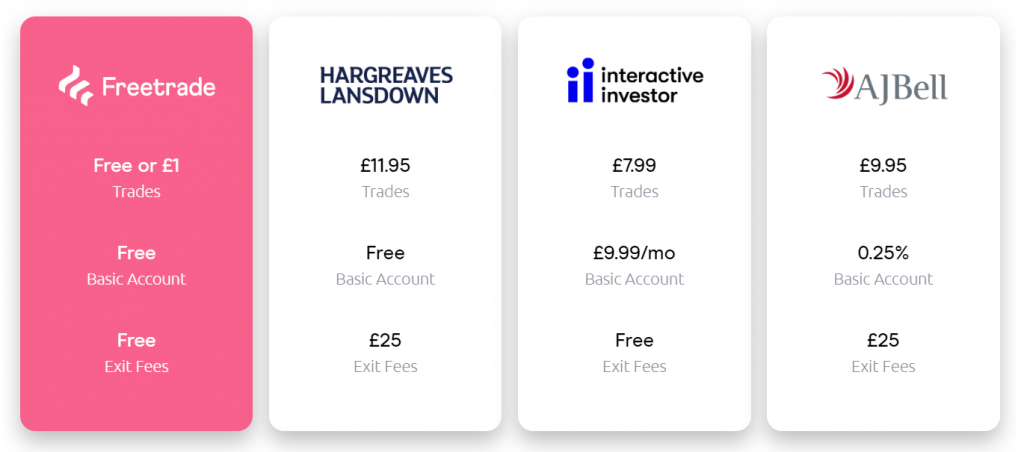 Remember for an added bonus if you use my Freetrade referral link above you get a FREE SHARE worth up to £200. I have already referred a few friends and I have received shares ranging from £3 – £36 . Okay maybe not quite £200 but they are FREE. 🙂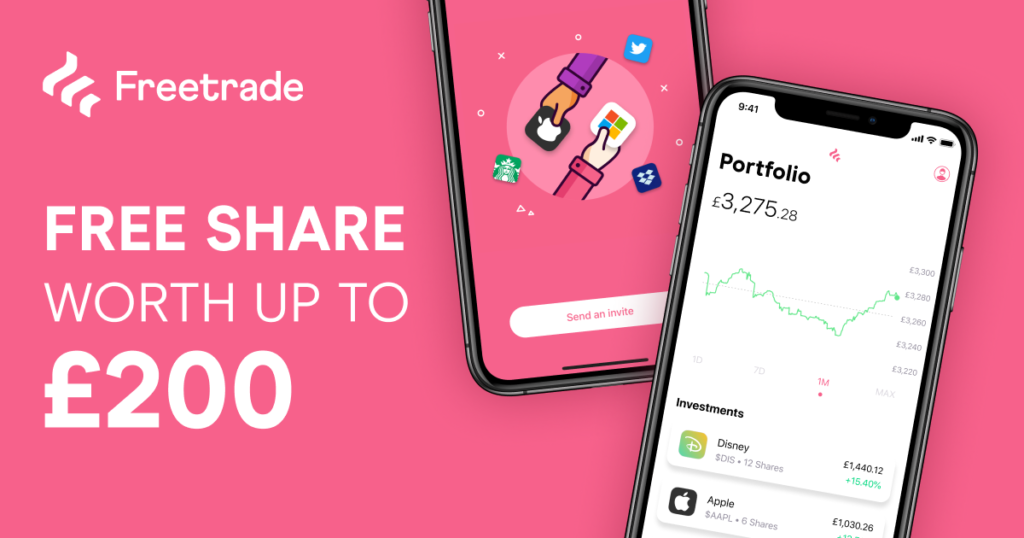 Keep an eye out for further blog posts as are post my share buying journey for a complete newbie to see how I do over the coming months.
Frequently Asked Questions
How do I get a Freetrade free share when joining?
To get a free share you need to use the freetrade referral link: https://magic.freetrade.io/join/sonia/05a9bb43 before registering.
What is the value of the Freetrade free share?
If you use the referral link https://magic.freetrade.io/join/sonia/05a9bb43 you will get a free share stock worth between £3 – £200. This will be randomly selected by Freetrade.
How long does it take to receive your freetrade free stock?
Normally once you have registered by following the freetrade referral link https://magic.freetrade.io/join/sonia/05a9bb43 you will get a notification that you have a mystery free stock. This will then gets released to your share account within 7-10 days.
What is the criteria to to take part in the Freetrade.io free share promotion?
In order to get a Freetrade Free share you need to register by following this link https://magic.freetrade.io/join/sonia/05a9bb43 and then registering and depositing at least £1. Once you have deposited the money you should get your free share confirmed within 24 hours.